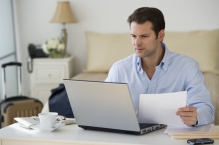 The Global Hotel Connect (GHC) program is a great way for smaller or regional and remote properties to boost their corporate and government bookings using one simple connection to 4 major Global Distribution Systems (Amadeus, Sabre, Galileo and Worldspan).
This connection enables your property to be booked by travel agents throughout Australia and the world.
To avoid spending thousands of dollars connecting to the GDS platforms, connect through GHC at an affordable cost with a low commission rate of 10%.
GHC will assist you with 24 hours reservation support based in Australia and an account manager to guide you through the connection and booking process.
New properties that sign up to the Global Hotel Connect Program before 31st March 2021 will receive a 20% discount off the joining fee for the 1st year.
Contact our account manager Arun Morrison for more details on 02 9414 4978 or email arun@hotelnetwork.com.au
#businesstravel #hotelsandmotels #thehotelnetwork